Flying from Clark Airport — A Cheaper Option?
It all started when I found a relatively cheap direct flight to Siargao from Clark Airport with Philippine Airlines. It was Php 4k roundtrip, and a month before my flight date. A week later, I booked the same flight for a friend that was joining me, and hers cost only Php 2k roundtrip! One of those moments that I wish I had waited a bit longer, haha. Flying from Clark Airport is possibly cheaper and definitely a worthwhile option to look into. It draws some congestion away from NAIA and getting there from Manila is now convenient, too!
How To Get To Clark Airport from Manila
There are P2P (point-to-point) buses operated by Genesis Transport from Manila to Clark and vice versa, which usually leaves every hour. You can choose to board at their NAIA 3, Ortigas, or TriNoMa pick-up points. I went to NAIA 3 since it's closest to where I live.
• Check the bus schedule for departure times from your preferred pick-up point. A popular choice is NAIA Terminal 3.
• Go to Bay 14 of the ARRIVALS area in NAIA Terminal 3 in advance before the bus leaves.
• Get on the bus and get comfortable. There's free wifi, USB outlets, and even a fold-out tray behind every seat.
• The bus conductor will collect your payment of Php 350 during the ride.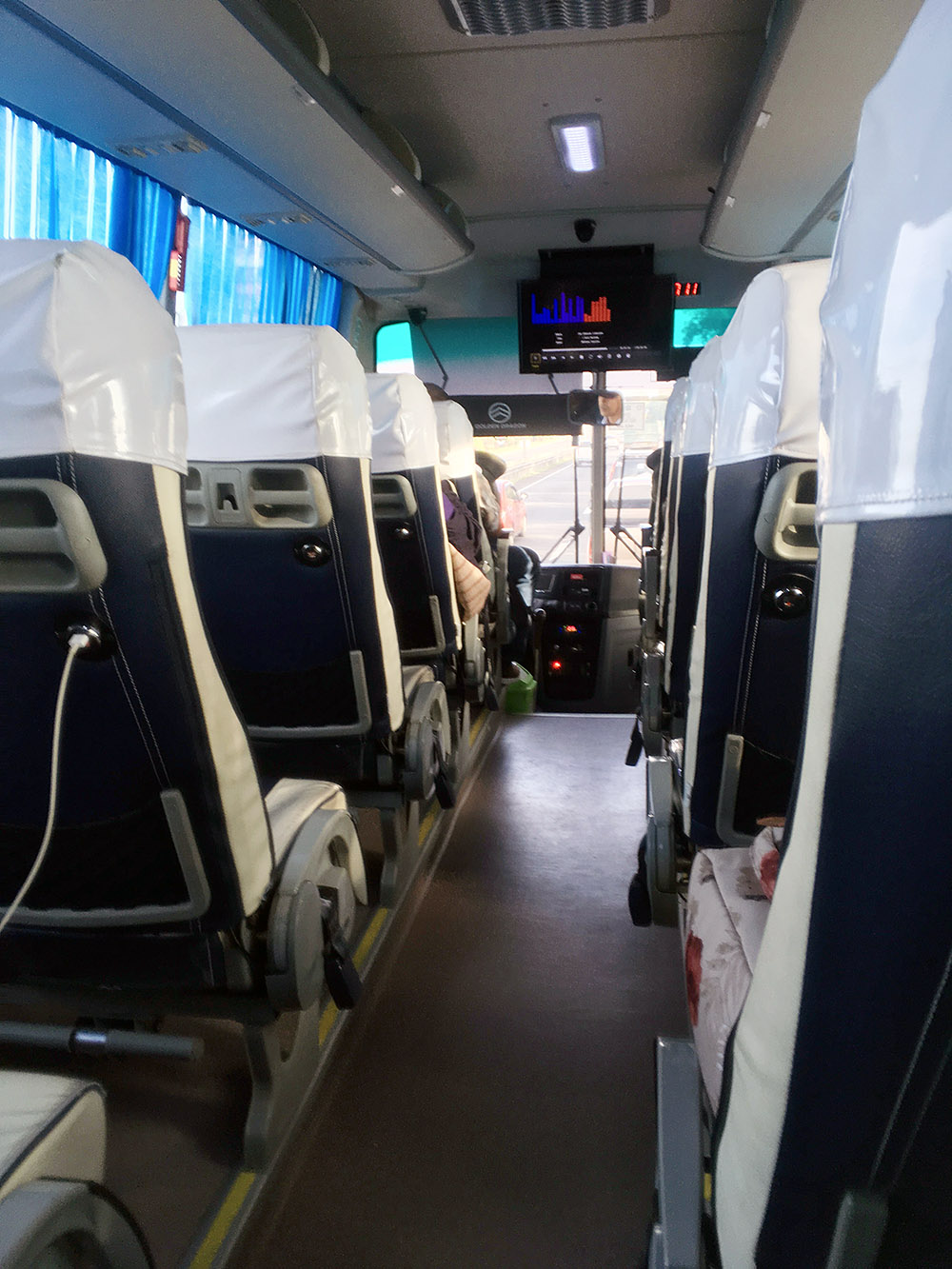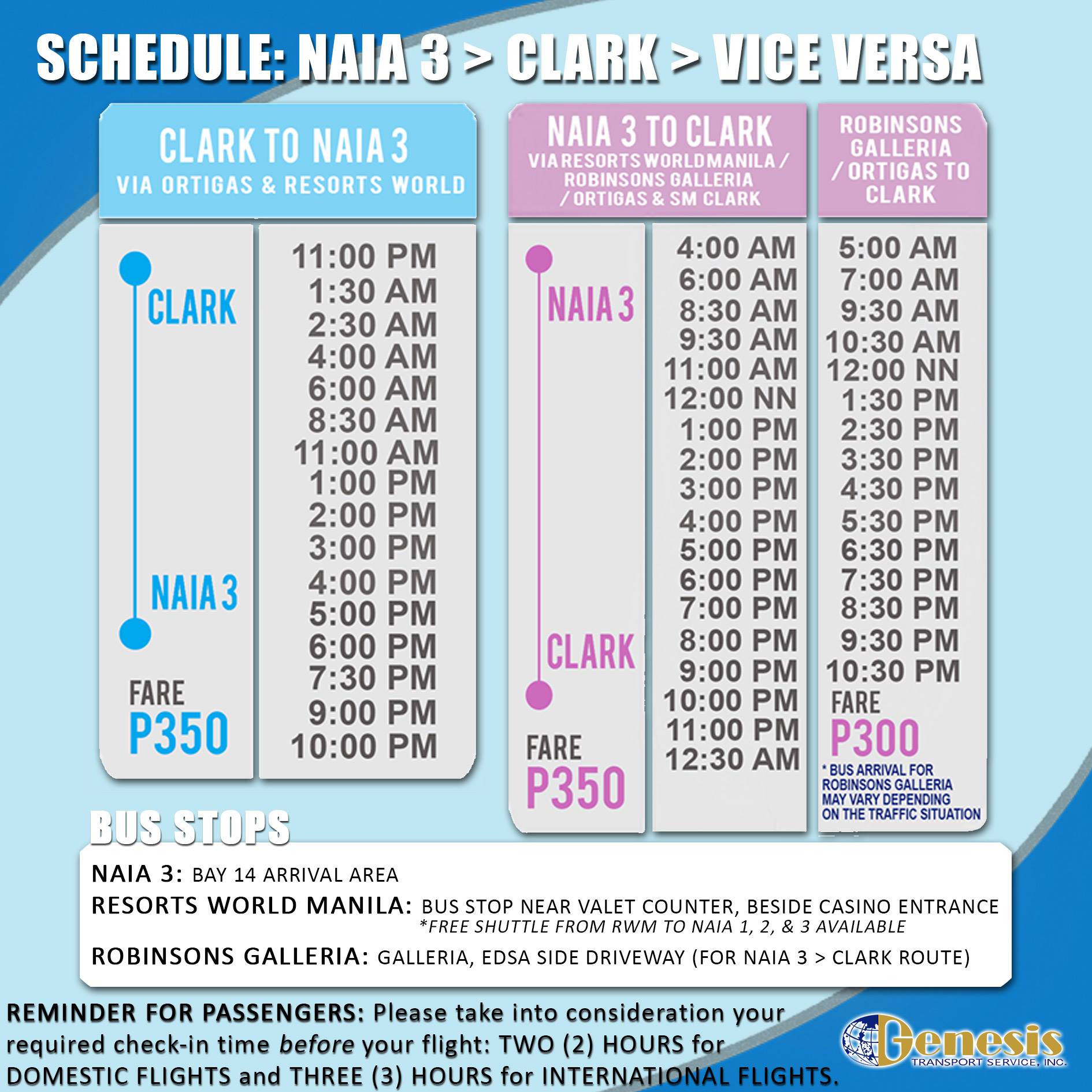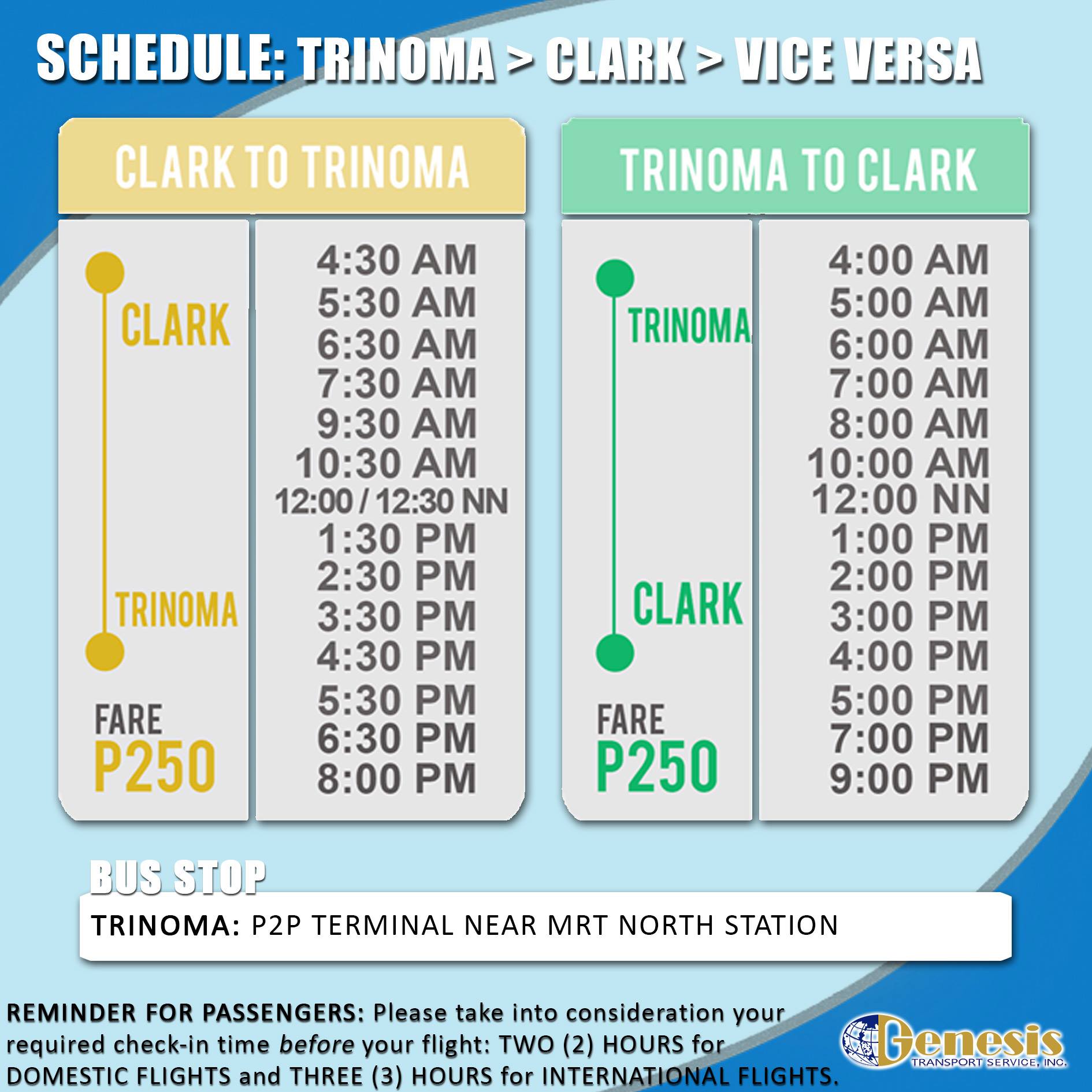 Note: Images courtesy of Genesis Transport. These schedules are current as of July 2018. Do contact Genesis Transport before your trip to get the latest timetable in case of changes.
Manila to Clark Airport P2P Bus Travel Time
Our flight was at 12nn, so we chose to take the 6am bus since the next bus leaves at 8:30am (which was too late). We allotted 3 hours for the bus' travel time, and 2 hours before boarding. However, I guess since it was an early Sunday morning, our bus ride only took about 1 hour 15 minutes! We arrived at Clark Airport way too early so we passed the time at the nearby 7eleven.
Going back from Clark Airport to NAIA 3, it was a Friday night so the journey took about 2.5 hours.
I'd still recommend leaving Manila 6 hours before your flight's departure time on any given day to be safe, so keep that in mind when booking your flight because traffic can be unpredictable.
What It Was Like To Fly PAL's Inaugural Clark-Siargao Flight
Last July 1st, a friend and I travelled to Clark Airport for our Philippine Airlines flight to Siargao. Little did we know that it was actually an inaugural flight! At the departure gate, all passengers of the Clark-Siargao flight were treated to a buffet. I got my food and sat down with my friend to eat when a man beside us turned and asked if we were passengers of the flight to Siargao. Thinking that he probably wants some of our free food (lol), we replied a short "yes", and then he introduced himself as Mr. Alex Cauguiran, the CEO of Clark Airport! We had a short conversation about our flight — and he was pretty excited about the airport opening up new flights (esp. international ones), and their aim for at least 2 million passengers by the end of the year. They've already surpassed the 1-million mark in the first five months of 2018, so that's not bad at all.
Soon after, he went up on the podium to give a short speech followed by a cake and ribbon-cutting ceremony. Meanwhile, I was still eating when a TV reporter approached me with questions. It was very awkward 😂
We were then given free bag tags during boarding and were sent off with a ceremonial spraying of water on the plane's exteriors. At a duration of 1.5 hours, the flight was pretty short. When we landed; a short red carpet was rolled out, a welcome banner was presented, and native dancers were performing for us at the arrival gates. It was a crazy fun experience for sure, and one we're quite unexpectedly blessed about!
---
Have you flown to/from Clark Airport before? What's your experience? If you haven't, are you considering it?